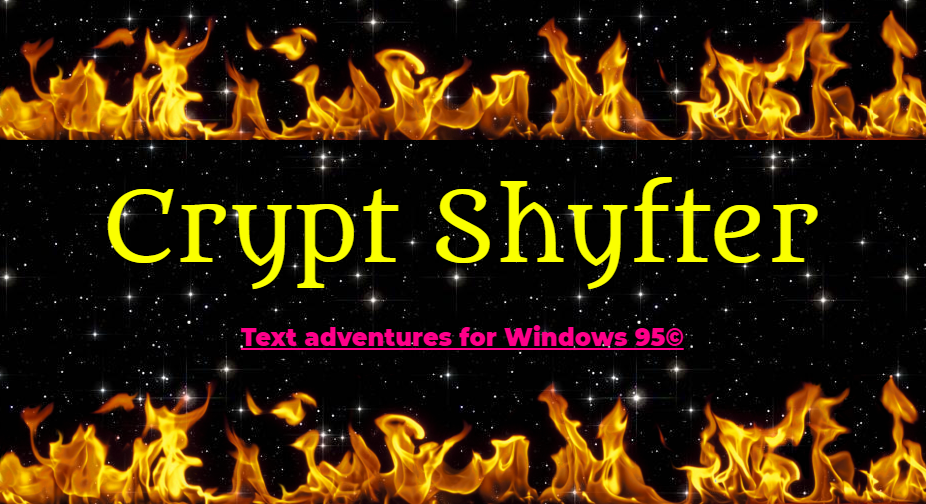 Crypt Shyfter: The Sword & Planet Saga
Explore strange new worlds, battle Shyfters, and fight for the future of Fuzonia in the Crypt Shyfter sword & planet saga!
Want to play all the adventures in the series? Grab the Complete Crypt Shyfter Collection!
The Adventures:
Exile - Sword & Planet. An evil sorcerer has teleported you thousands of light-years away. Now you're caught in the middle of an intergalactic alien war!
Starwisp - Sword & Planet. Space vampires are killing the loompas! But where are they coming from? Someone has to investigate!
Rebellion - Sword & Planet. You've been enslaved by the Gorlons and they're forcing you to fight Shyfters in their alien gladiator arena!
Atomic Angel - Sword & Planet. The Atomic Angel is creating Shyfters, and he must be stopped! Only a badass barbarian warrior like yourself can defeat him. Travel to the mysterious planet of Bo in the 32nd Dimension and track down the ruthless villain. Prepare for an epic battle!

Cover art by DarkDarren
Purchase
In order to download this game you must purchase it at or above the minimum price of $2.50 USD. You will get access to the following files:
09. Rebellion.html
582 kB
11. Atomic Angel.html
608 kB