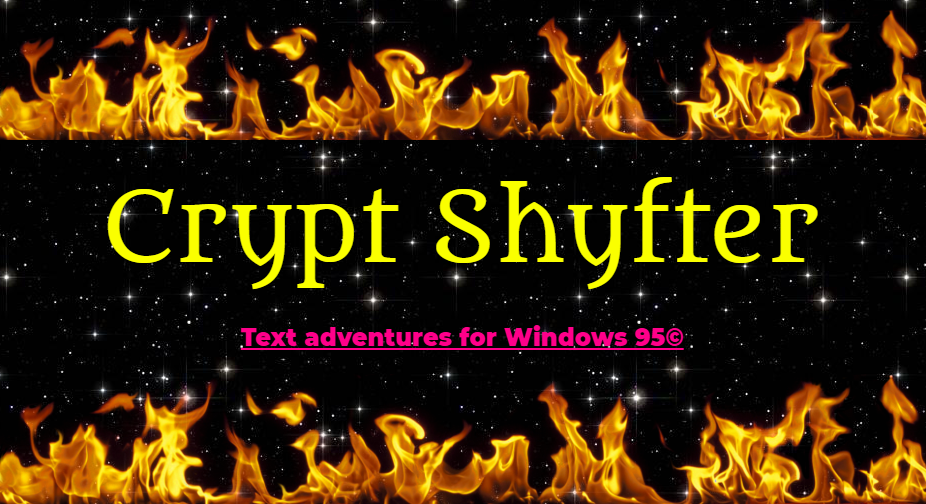 Crypt Shyfter: Fantasy Quest Pack
This collection contains a handful of mini Crypt Shyfter adventures. Get your bite-sized fill of wacky Shyfter slaying!
Want to play all the adventures in the series? Grab the Complete Crypt Shyfter Collection!
The Adventures:
Vortex - Fantasy. Help Captain Four Fingers and her pirates find their lost crew in Shipwreck Cove.

Howling Flame - Fantasy. Hunt down the Shyfter called Howling Flame and return the stolen Sacred Gem to its rightful home!
Crimson Wings - Fantasy. The people of your village are going nuts and killing each other. You must find out why and put a stop to it!
Pizza Quest - Fantasy. The troll kings have stolen your tribe's pizza! As the badass barbarian leader, it's your job to seek out their stinky troll cave and get the pizza back!
Fallen Empire - Fantasy. The world has been nearly destroyed by Shyfters. The last survivors have retreated into the holy temple of Shergblatt, and they need a hero to save them. I guess that would be you?
Blood Island - Fantasy. Rumor has it there exists a mythical lost city filled with treasure on the mysterious Blood Island... only a total badass would be able to find it, though!
Chapel of Evil - Fantasy. A magical healing spring has been discovered beneath the Chapel of Mercy in Aramoor. Word of this miracle has spread across Azmar, but unfortunately there are evil people who seek to sell the water or keep it for themselves. A wicked knight named Sir Rollo has captured the chapel and won't allow anyone to enter. You must defeat Rollo and his band of thugs so the peasants can have access to the magical healing water!
Purchase
In order to download this game you must purchase it at or above the minimum price of $3.50 USD. You will get access to the following files:
13. Howling Flame.html
540 kB
14. Crimson Wings.html
502 kB
17. Pizza Quest.html
517 kB
22. Fallen Empire.html
496 kB
23. Blood Island.html
486 kB
24. Chapel of Evil.html
507 kB